Determining the expected life a recirculating ball or roller bearing is fairly straightforward when the applied loads and duty cycle are known. Just use the bearing life equation:
for recirculating ball bearings
OR
for recirculating roller bearings
Where:
L = bearing life
C = bearing dynamic load capacity
F = applied dynamic load
These equations give the bearing life (in kilometers of distance traveled) that 90 percent of identical bearings under identical conditions can be expected to achieve. In other words, this is the theoretical life—based on extensive real-world testing and statistical analysis—that a bearing can, with 90 percent reliability, be expected to achieve. This determination of bearing life is often referred to as the fatigue life, because the end of a bearing's useful service is marked by fatigue failure. (Assuming the bearing was not exposed to other conditions that shortened its life.)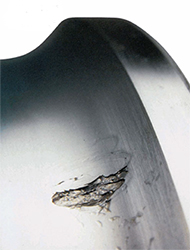 What is fatigue failure?
Fatigue failure is characterized by spalling (flaking) on the raceways and/or the recirculating elements (balls or rollers). As the bearing operates—carrying a load and experiencing forces due to its motion—the repeated stresses on the recirculating elements and raceways cause the material to fatigue. Fractures begin to form in the bearing's internal structure, and as those fractures reach the surface, small pieces of material begin to flake away. With continued operation, the spalling spreads along the surface. The result is a degradation of bearing performance, including increased noise and vibration. Fortunately, the propagation of spalls leading to fatigue failure is a relatively long process, and not a source of catastrophic failure.
Other causes of fatigue failure
In addition to a bearing reaching the end of its normal service life, fatigue failure can be caused by other factors. In these cases, it is often referred to as "premature fatigue failure," since it causes the bearing to begin spalling before the end of its normal life.
Overloading, often caused by shock or vibration, is one cause of premature fatigue in bearings, but the most common source is improper (typically lack of) lubrication. If a sufficient lubrication film is not present between the raceways and the recirculating elements, microstructures on the surfaces will shear over each other and break off, causing micro-spalls to form. These develop into larger spalls and eventually lead to premature fatigue failure. It's interesting to note that in this case, the fatigue initiates on the surface of the bearing, rather than internally.
How to avoid fatigue failure
No bearing will run forever, but there are actions and precautions that can help ensure the bearing achieves its expected service life.  First and foremost is proper lubrication. Not only does lubrication prevent the micro-spalling described above, it also protects the bearing from contamination and minimizes heat generation due to friction.
Second is proper use, including handling and installation. Each of these, if not executed properly, can result in shocks and vibrations that overload the bearing, causing surface dents or deformations that can interfere with the lubrication film.
And third goes back to the bearing life equation and proper sizing. While significant over-sizing of a bearing is not generally recommended, due to its effect on cost, footprint, mass, and inertia of the system, designers and engineers should carefully consider the loads, load factors, and operating conditions of the application, and select bearings that are well within the targeted service life.