Outgassing — the release of gas or vapor from a material through desorption, sublimation (the transition of a material from solid directly to gas), or evaporation — is a critical parameter for materials used in vacuum environments. These gasses and vapors can affect the pressure (or level of vacuum) in the vacuum chamber, and outgassed compounds can condense on surfaces, damaging or destroying sensitive components such as lenses, semiconductor wafers, and microelectronic components. Outgassing can also degrade sterile environments in medical and pharmaceutical applications.
---
A material's level of outgassing is often determined using the ASTM E595 standard, which measures two parameters — "the change in mass of a test specimen on exposure under vacuum to a temperature of 125° C" (referred to as Total Mass Loss, or TML), and "the mass of those products that leave the specimen and condense on a collector at a temperature of 25° C" (referred to as Collected Volatile Condensable Materials, or CVCM).
---
An environment with a pressure less than atmospheric pressure (101,325 Pa or 760 Torr) is considered a vacuum, but vacuum environments are often broken down into five categories:
The most common units for specifying vacuum levels in industrial applications are:
Pascal, which is the SI unit (1 Pa = 1 N/m2)
Torr, which is used primarily in the U.S. (1 Torr = 1 mm Hg)
millibar (1 mbar = 0.001 bar; 1 mbar = 100 Pa)
---
Although the level of vacuum determines exactly what materials are suitable for a given application, there are some guidelines that serve as a good starting point.
For materials used in linear motion components, those that are generally discouraged from use in vacuum applications include:
Porous materials, including porous ceramics and metals
Anodized aluminum
Polyurethanes, rubbers
Nylon
Lubricants not specifically developed for vacuum applications
Materials relevant to linear motion components that are generally acceptable in vacuum applications include:
Stainless steels (austenitic and some martensitic versions)
Non-anodized aluminum (especially well-suited for high vacuum)
Electroless nickel
Teflon (PTFE)
Vacuum-rated, low vapor pressure lubricants and some solid lubricants
Fortunately, many linear motion components are offered with low outgassing materials as standard options or with readily available modifications.
---
Low outgassing linear guide options
Plain bearings have an advantage over ball and roller type bearings in vacuum applications because they don't require lubrication, so one source of outgassing is automatically eliminated. And they're available in a variety of plastic and composite materials that have low outgassing properties.
Ball and roller guides — whether crossed roller or recirculating types— are offered in a wide range of styles and sizes with all-stainless steel construction. Case in point: Crossed roller guides with metal cages and miniature profiled rail guides are commonly offered in all-stainless steel versions. And round shaft linear bushings are commonly available in all-metal versions, which can be made vacuum-compatible with proper bake-out (see below).
For longer strokes with higher load capacities, some manufacturers offer all-stainless versions of standard (size 15 and above) ball and roller linear guides. And if a ball or roller guide style isn't available in all-stainless, the standard plastic components — such as seals and recirculation end caps — can, in some cases, be replaced with vacuum-compatible materials such as PEEK.
---
Bake-out is a process that forces the release of trapped gasses and vapors in a material by heating the material to a high temperature (typically 200°C, although higher temperatures are sometimes required) while under high vacuum, for anywhere from several hours to several days. Performing a bake-out before using a product in a vacuum environment is standard practice for most levels of vacuum, and bake-out is mandatory for products used in ultrahigh vacuum (UHV) environments.
---
Low outgassing linear drives
For vacuum applications, screws and rack-and-pinion drives are typically chosen over belts, since common timing belt materials aren't suitable for vacuum environments. Lead screws are especially well-suited for vacuum environments, since lead screw nuts can be made from PEEK and shafts are readily available in stainless steel. And like plain bearing linear guides, lead screws don't require lubrication.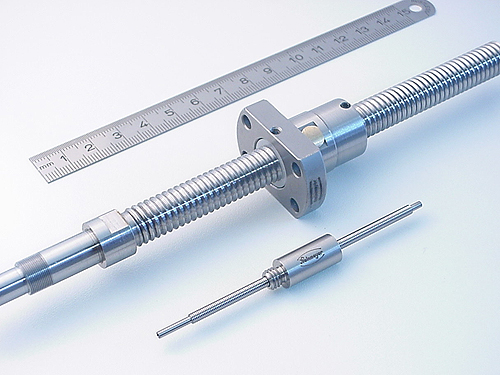 Miniature ball screws are also commonly available in all-stainless versions, and some manufacturers offer standard ball screws in vacuum-prepared versions — with stainless steel materials and silicon nitride (ceramic) balls.
---
For nanopositioning, piezo actuators and piezo motors are readily available in low outgassing versions. It's important to note that with any linear system, electrical and electronic components — such as motors, cables, and switches — also require special materials, since plastic connectors, soldering materials, and even encapsulation materials for motor windings can all contribute to outgassing.