Synchronous belts (also referred to as timing belts) are used in a wide range of power transmission and transport applications that require good positioning accuracy. Tensile cords molded into the belt material help eliminate or minimize belt stretch, and positive engagement between the teeth of the belt and the pulley make synchronous belts less likely to experience slip than V-belts. In addition, synchronous belts excel in applications that require high operating speed — especially when high torque or thrust loads are involved.
One of the primary factors that allows a synchronous timing belt to operate under high-speed conditions is the belt's tooth profile, which influences the strength of the teeth, the meshing characteristics between the belt and pulley, and the belt's tendency to ratchet, or jump teeth.
Synchronous belt tooth profiles can be divided into three main categories — trapezoidal, curvilinear, and modified curvilinear — although manufacturers offer their own proprietary variations on these types (especially the modified curvilinear shape) to provide specific operating characteristics such as low noise, high speed, or better accuracy.
---
The original — and still widely-used — tooth profile for synchronous belts is the trapezoidal profile. This tooth design offers better efficiency than V-belt drives, but the trapezoidal shape leads to high stresses at the points where the belt and pulley mesh, which can cause rapid wear in high-speed applications.
The curvilinear tooth profile has a rounded shape and deeper tooth profile than the trapezoidal design. These features reduce stresses at the belt-pulley interface, allowing curvilinear designs to transmit higher forces and withstand higher speeds. The deeper tooth profile also reduces the possibility of ratcheting. However, the required clearance between belt teeth and pulley grooves is larger than for trapezoidal designs, meaning curvilinear designs have higher backlash than trapezoidal profiles.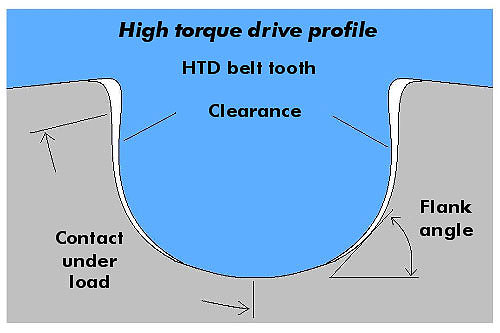 ---
The curvilinear tooth profile for synchronous belts was originally developed by Gates, and belts with this new profile were designated "HTD" belts. (HTD stands for "high torque drive.") Although each manufacturer has its own name for belts with this tooth design, the HTD designation is still used to identify a timing belt with the curvilinear tooth profile.
---
Tooth profiles classified as modified curvilinear often have a design that is proprietary to the specific manufacturer, but these designs can be identified by a lower tooth depth and higher flank angle than standard curvilinear designs. The modified curvilinear profiles were developed to overcome some of the drawbacks of the curvilinear design, with the most noticeable improvements being lower backlash and higher torque and force capabilities, thanks to better tooth flank contact, lower stresses on belt teeth, and less tooth deformation. These characteristics also make modified curvilinear belt designs the least likely to experience ratcheting, even under high loads.
These performance improvements — especially higher torque/force and reduced ratcheting tendency — mean that modified curvilinear designs are typically the best choice for high-speed applications, particularly when quick acceleration to maximum speed is required or when the belt is moving heavy loads.
---
A note about synchronous belts and noise in high-speed applications
Noise can be problematic in synchronous belt drives, especially in high-speed applications. This is due to two factors. First, the action of the belt meshing with the pulley causes impact noise. Second, as the belt teeth engage with the pulley grooves, air is trapped between them and then evacuated, making a sound similar to air escaping from a balloon — a phenomenon that can be especially prominent at higher belt speeds.
The improved belt-pulley meshing characteristics and increased tooth contact of modified curvilinear belts typically make them the least noisy of the three designs. However, noise is not just a product of the belt and pulley dynamics. The amount of pre-tension applied to the belt and the materials of the belt and the pulley also play a role in how much noise a synchronous belt produces. If noise is a concern in your application, check out this article to learn more about belt noise and how it can be reduced.